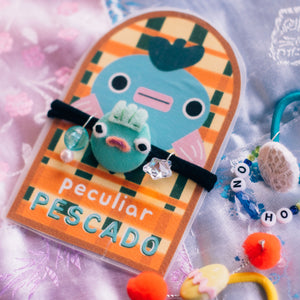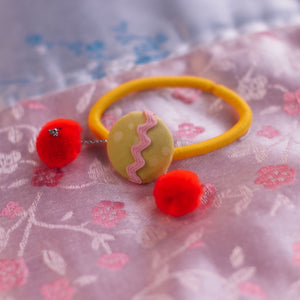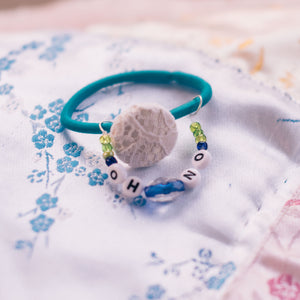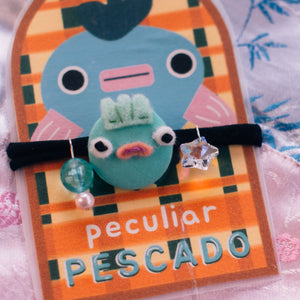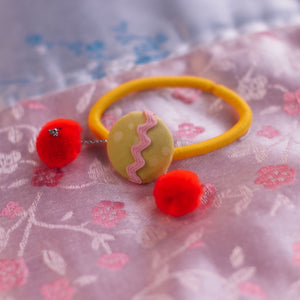 Peculiar Pescado Hair Tie Set
Made for the [not-so-much] lives of the party, the Peculiar Pescado hair tie set exudes existential angst and fear of large crowds– the perfect companion! Each hair tie is made from fabric scraps and repurposed craft projects, making each one a little different but equally awkward. 
Tie 1: Teal fabric button with a felt face and embroidered details is hand-stitched onto a black soft elastic tie. It is adorned with extra beads and an imitation pearl attached to silver eyepins. 

Tie 2: Another handmade fabric button in a color that can only be described as acidic green with an attachment of pastel pink ric rac. I've stitched silver thread through red pom poms to give a dangly cherry feel.
Tie 3: Lace button with cream silk underneath is hand-stitched onto colored hair tie. a small attachment spells out "OH NO" and is strung with additional glass and plastic beads. 
Note: Due to sanitary reasons, all jewelry sales are final and cannot be returned. However, if a product does arrive damaged or unsuitable to your needs, we will work with you to provide an item of intended equal value and style. We are able to contacted through our Instagram profile @mercadostand