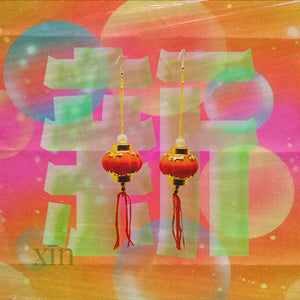 Lucky Lantern Earrings
We've made a small batch of red lantern earrings in time for new year's. The red lantern has had a long history from being used in religious festivals, decorations, and holidays eventually becoming a symbol of prosperity and good fortune.
Materials: Hook earrings are made of 925 sterling gold and attached to re-purposed mini lantern ornament and decorated with an imitation pearl bead. 
Please note, the item will not be an exact replica of its listed picture. All of our products are one-of-kind and assembled by us, meaning there will be product variation in terms of color, size, and paint details. You receive one pair, meaning two lanterns per purchase.

Color: red lantern with gold and yellow detailing, attached to a gold hook
Note: Due to sanitary reasons, all jewelry sales are final and cannot be returned. However, if a product does arrive damaged or unsuitable to your needs, we will work with you to provide an item of intended equal value and style. We are able to contacted through our Instagram profile @mercadostand