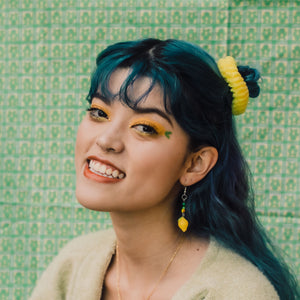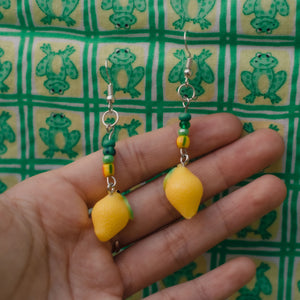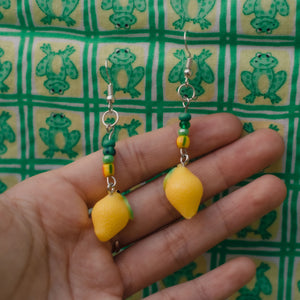 Lemon Son Earrings
Keep up that zest in your life with our fun dangly lemon earrings. Each earring has been handmade to look unique, yet complimentary to its counterpart with a varying orders of glass and porcelain bead charms. We love to pair these with warm-toned outfits and sunny days. 

Please note, the item will not be an exact replica of its listed picture. All of our products are one-of-kind and assembled by us, meaning there will be product variation in terms of bead color, shape, and placement. You receive one pair, meaning two lemons per purchase.

Materials: Earrings are made of zinc and iron alloy (free of lead and nickel material) with resin lemon charms attached by silver jump rings and eye pins. The small beads, known as "seed beads," are made of porcelain and glass. 
Color: Lemon yellow charms with a mix of green, yellow, and blue seed beads.
Due to sanitary reasons, all jewelry sales are final and cannot be returned. However, if a product does arrive damaged or unsuitable to your needs, we will work with you to provide an item of intended equal value and style. We are able to contacted through our Instagram profile @mercado.stand