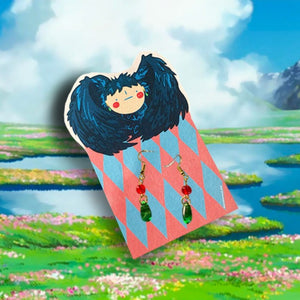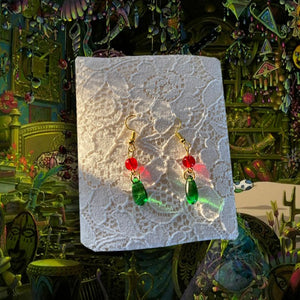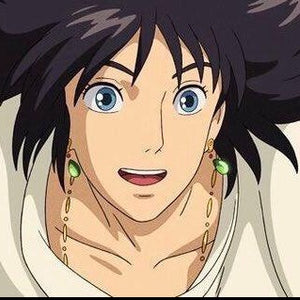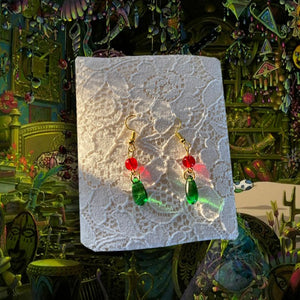 Howl's Moving Earrings + Mini Print
Note: These earrings are an ordered vendor product, and have not been handmade or designed by us.
Second Note: Although the combined mini print is illustrated and printed at home!
We've all been at that phase of being completely in love with a fictional and animated character..right? It's the Shego and Howl Jenkins Pendragon for me. These earrings are styled after Howl's in the 2004 movie by Studio Ghibli. I styled the print/earring backing card after Howl's coat and bird form in Howl's Moving Castle.
Materials: Lightweight gold-colored earrings are made of zinc alloy. A clear red globe bead is attached by a gold pin. A gold jump ring connects this to the clear-green teardrop bead.
Please note, the item may not be an exact replica of its listed picture. There may be product variation in terms of print details, hand cutting, and bead attachment. You receive one pair, meaning two earrings and one mini-print per purchase.
Color: Slightly see-through emerald green and ruby red beads on gold-colored hooks and attachments.
Note: Due to sanitary reasons, all jewelry sales are final and cannot be returned. However, if a product does arrive damaged or unsuitable to your needs, we will work with you to provide an item of intended equal value and style. We are able to contacted through our Instagram profile @mercadostand