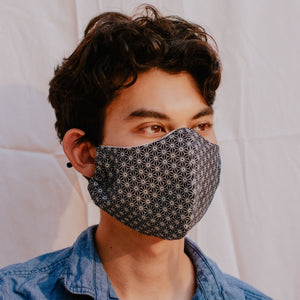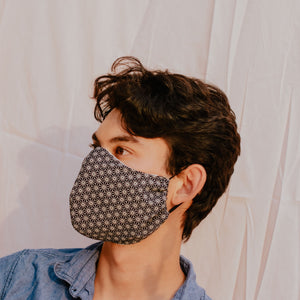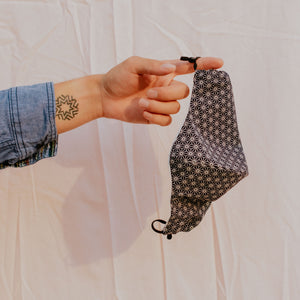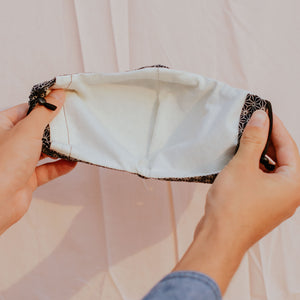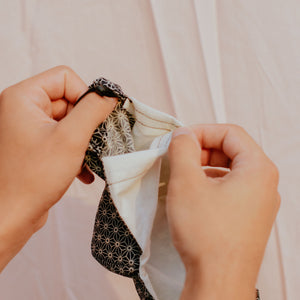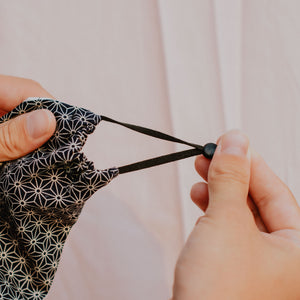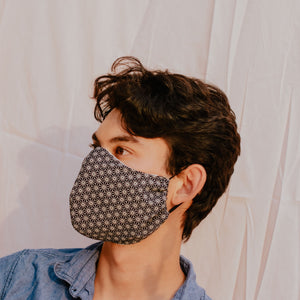 Reusable Asanoha Japanese Fabric Mask with Filter-Pocket and Adjustable Elastic Ties (LARGE SIZE)
This handmade mask is made with 100% cotton fabric we imported from Japan and matched with unbleached muslin cloth to create a super soft and breathable mask.  Each item is made from 2 layers and with space to insert a filter (not included) to aid in air filtration and comfort. These masks are paired with stretchy nylon elastic, fitted with a small buckle for size adjustment.
Note: These masks are made in the size large, they will most likely cover the chin of smaller faces entirely. 
All of our products are one-of-kind and assembled by us, meaning there will be slight product variation in terms of fabric orientation, thread color, and cut.
** Please note, these masks are not medical grade. If used without further precautions, they are not alone preventing the transmission of disease. We make no claims or warranties that these masks in any way prevent infection or the transmission of virus.**
Materials: 
Front: 100% Cotton from Japan (dark blue with white asanoha pattern)
Lining: Unbleached Muslin Cotton Cloth from our own stock
Ties: Nylon Elastic with Rubber Buckle for Adjustment
Care Instructions: We wash all of our fabric before sewing them into masks. Masks can be machine-washed with regular ol' laundry, but you may use the Gentle Cycle, garment bags, or air-drying to preserve the elastic cords. The fabric will get softer with each wash so be aware of any color bleeds in the first few washes.
Due to sanitary reasons, all masks are final sale and cannot be returned.