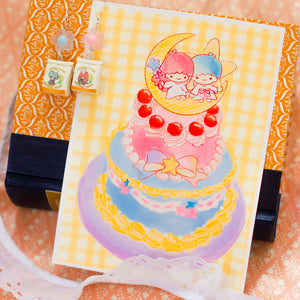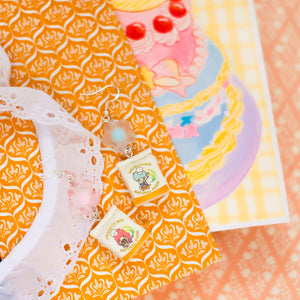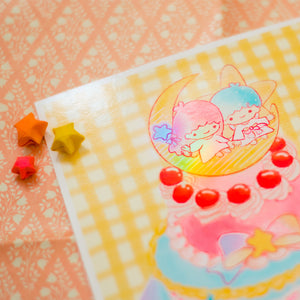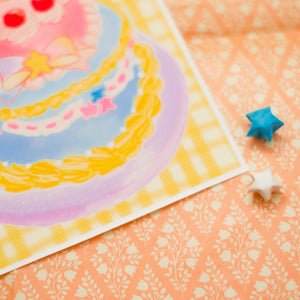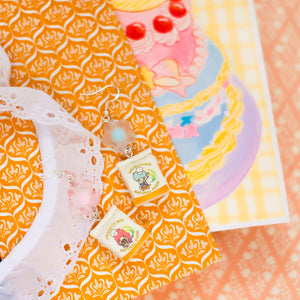 Flour Power Twin Star Earrings + Print
These Twin Star depicted on flour sack charms combine some of my favorite things, Sanrio and carbs. Each earring pair comes with a cake that will never spoil (it's a print).
Materials: 
Earrings | Sterling Silver 925 hooks are connected to the resin "flour sack" charms by a zinc alloy hook. In between is a semi-translucent flower bead. One charm reads "Organic Flour Natural Food" while the other reads "Organicf Rice Natural Food."

Print | Printed on Glossy Photo Paper. 5.5 x 7.5 in
Please note, the item may not be an exact replica of its listed picture. There may be product variation in terms of print details, hand cutting, and bead attachment. You receive one pair, meaning two earrings and one print per purchase.
Color: Cream resin charms with painted details on silver-colored hooks and attachments. Semi-translucent flower beads with asymmetrical pink and blue centers.
Note: Due to sanitary reasons, all jewelry sales are final and cannot be returned. However, if a product does arrive damaged or unsuitable to your needs, we will work with you to provide an item of intended equal value and style. We are able to contacted through our Instagram profile @mercadostand