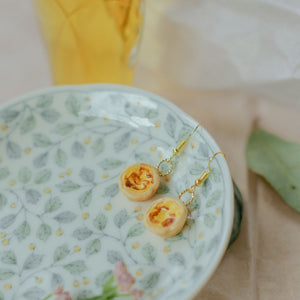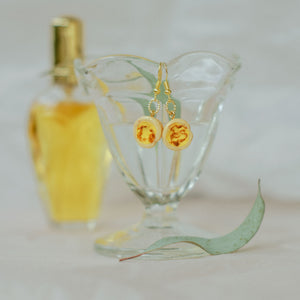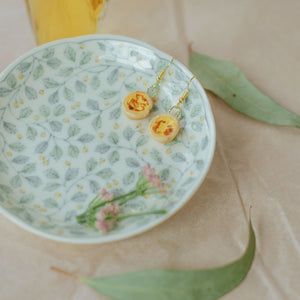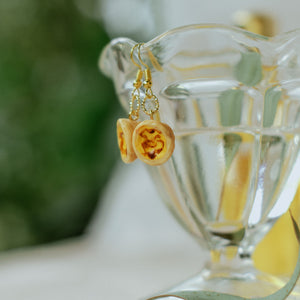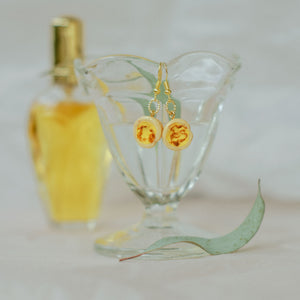 Egg Custard Tart Earrings
Whether you prefer Hong Kong's or Macau's Portuguese style of egg tart, they are both undeniably some of the most tantalizing pastries of food stalls and bakeries all over the world. You haven't lived fully until you've been elbowed in the ribs from an ayi trying to get the freshest batch of egg tarts for her party.
Materials: Earrings are made of zinc and iron alloy (free of lead and nickel material) with gold coloring. They are connected to resin charms with gold eyepins and a small, etched imitation gold hoop.
Please note, the item will not be an exact replica of its listed picture. All of our products are one-of-kind and assembled by us, meaning there will be product variation in terms of egg tart color, size, and details. You receive one pair, meaning two egg tart earrings per purchase.
Color: Yellow custard tarts, beige crust, airbrushed brown detailing with gold hooks and attachments
Note: Due to sanitary reasons, all jewelry sales are final and cannot be returned. However, if a product does arrive damaged or unsuitable to your needs, we will work with you to provide an item of intended equal value and style. We are able to contacted through our Instagram profile @mercadostand