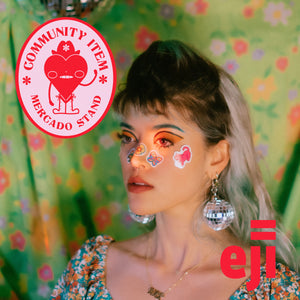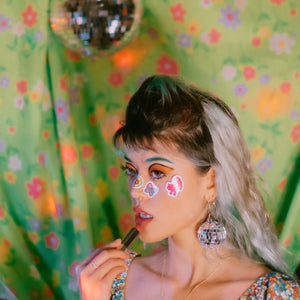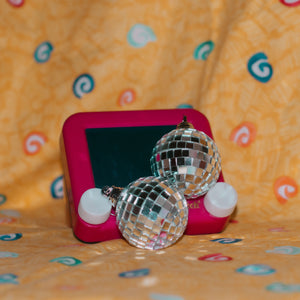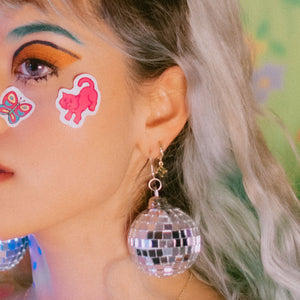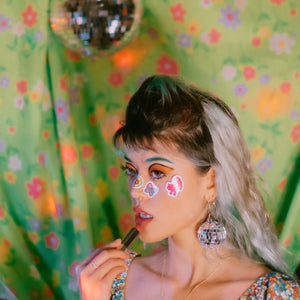 Discoteca Diva Earrings
This is a Mercado Stand Community Item with 75% of each sale being directly donated to Equal Justice Initiative, a non-profit "committed to ending mass incarceration and excessive punishment in the United States, to challenging racial and economic injustice, and to protecting basic human rights for the most vulnerable people in American society" and with a score of A+ on CharityWatch. 

Find more information, historical exhibits, and events from EJI here
Walk into any room with the confidence of Colin Firth in sparkly Spandex pants with our Discoteca Diva Earrings. Perfect for parties or shocking your peers into disco submission, these lightweight earrings easily catch light and attention. 
There will be product variation in terms of mirror and hook placement. You receive one pair, meaning two disco balls per purchase.

Materials: Earrings are made of zinc and iron alloy (free of lead and nickel material) with mirror-covered styrofoam balls by silver jump rings. The size of each disco ball is 2 inches. Since they are re-purposed holiday ornaments, they are lightweight and comfortable to wear.
Color: Reflective mirrored surface with silver finish
Due to sanitary reasons, all jewelry sales are final and cannot be returned. However, if a product does arrive damaged or unsuitable to your needs, we will work with you to provide an item of intended equal value and style. We are able to contacted through our Instagram profile @mercadostand