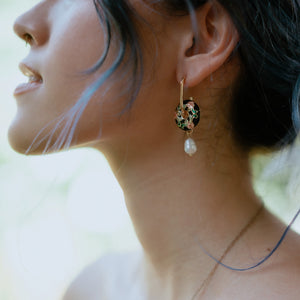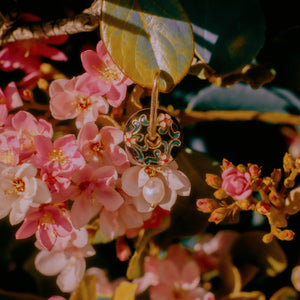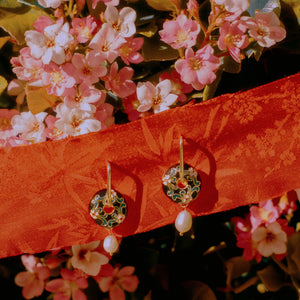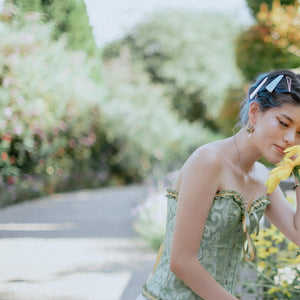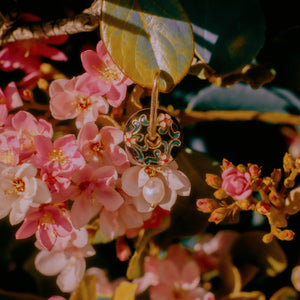 Cloisonné Chahua Drop Earrings
*Note: This is a vendor product, meaning we have ordered these and have not handmade or designed them.
The Cloisonné style of enamel decoration is used to describe intersecting colors enclosed in wire. Depicted in these black disks are light pink camellias with thick green leaves and bordered with gold. Camellias are a bold, beautiful plant also known as 茶花 "tea flower" as it is from a particular variety of camellia plant that tea leaves are made from.
Cloisonné  is one example of the unique influences Asian artistry and luxury pieces had on the European art world, made especially popularized in the 18th century along with the French Rococo movement. This phenomenon of European interpretation of Chinese and East Asian art was known as chinoiserie (from the French chinois, "Chinese" or 中國風 "Chinese manner."
Materials: The huggie posts are gold-plated and nickel free. They attach to the engraved enamel and gold disks with a dropped down pearl.
Please note, the item will not be an exact replica of its listed picture. There may be  product variation in terms of natural pearl imperfections, size, and painting details. You receive one pair, meaning two earrings per purchase.

Color: Gold plated posts, with black disks and a white pearl below.
Note: Due to sanitary reasons, all jewelry sales are final and cannot be returned. However, if a product does arrive damaged or unsuitable to your needs, we will work with you to provide an item of intended equal value and style. We are able to contacted through our Instagram profile @mercadostand