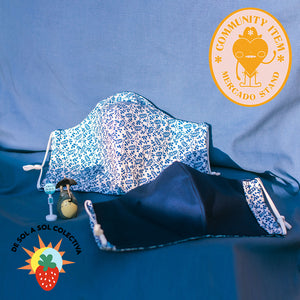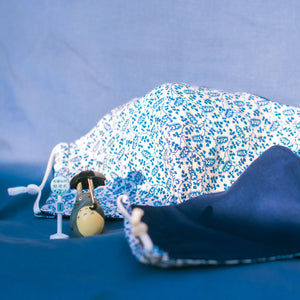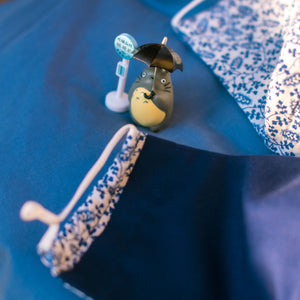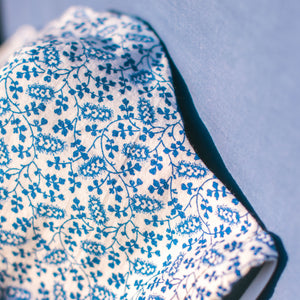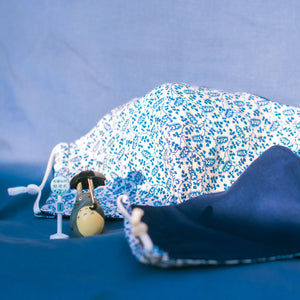 Blue Talavera Mask | Otilia's Fabric Series
This is a Mercado Stand Community Item with 75% of each sale being directly donated to De Sol a Sol Colectiva, a "mutual aid collective that through community support provides cash grants to undocumented farmworkers of indigenous and non-indigenous backgrounds" in Watsonville, California.
Find more information, community updates, and notable events at their Instagram here
This handmade mask is from our Otilia's Fabric series, after my maternal grandmother's tendency to show her love, humor, and patience through handmade clothes and gifts. Each fabric in this series has a story of what she made for the family with it as well as the scraps she always gave with the gift for "just in case."  
This fabric was used by my grandmother to pad her growing collection of handmade aprons to wear and often give away whenever someone casually complimented the colors. She especially liked blue floral designs like these in apron fabrics because they matched the talavera tiles and ceramics in her busy kitchen. Vivid blue is popular in traditional talavera pieces as it was an expensive pigment to add into the clay workmanship, making it a piece of prestiege to use and also display proudly. Later on, Chinese influences in pottery and pigment creation further established the demand for blue detailing. You can still find beautiful talavera ceramics, mosaics, and art pieces especially in San Diego.

Made with 100% cotton fabric with white and blue details, it is matched with 100% cotton navy blue fabric.  Each item is made from 2 layers and with space to insert a filter (not included) to aid in air filtration and comfort. These masks are paired with stretchy white nylon elastic, fitted with a small silicon buckle for size adjustment.

All of our products are one-of-kind and assembled by us, meaning there will be slight product variation in terms of fabric orientation, thread color, and cut.
** Please note, these masks are not medical grade. If used without further precautions, they are not alone preventing the transmission of disease. We make no claims or warrants that these masks in any way prevent infection or the transmission of virus.**
Materials: 
Front: White and Blue Floral Pattern
Lining:  100% Cotton (Navy Blue)
Ties: White Nylon Elastic with Rubber Buckle for Adjustment
Care Instructions: We wash all of our fabric before sewing them into masks. Masks can be machine-washed with regular ol' laundry, but you may use the Gentle Cycle, garment bags, or air-drying to preserve the elastic cords. The fabric will get softer with each wash so be aware of any color bleeds in the first few washes.
Due to sanitary reasons, all masks are final sale and cannot be returned.