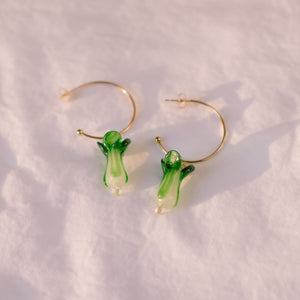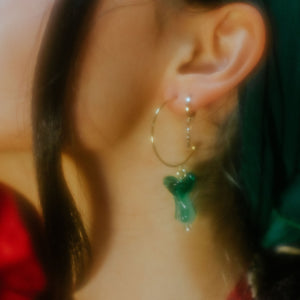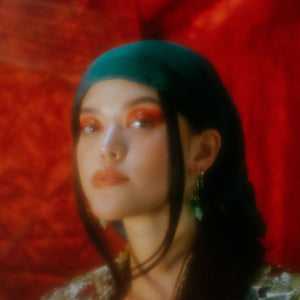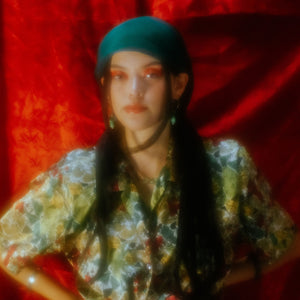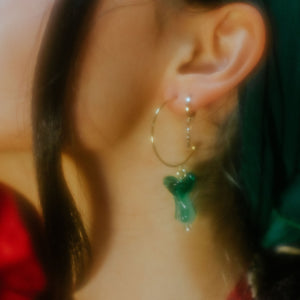 I'm Baby (Bok Choy) Glass and Gold Plated Semi-Hoop Earrings
Known in America as "Chinese cabbage" or bok choy, baicai is a beautiful sight to see steaming on the dinner table. Since it has phonetic similarities to "hundred wealth," it is known as a symbol of good luck and you can see jade statues and figures of the cabbage in homes and places of business. We've paired the delicate cabbage glass bead with a gold-plated semi-hoop. Wear it for exams or a night out for that extra boost of fortune!
Materials: Semi-hoop earrings are made of copper with gold plating. Attached with gold eyepin and jump ring. Includes glass bok choy bead and clear seed bead.
Please note, the item will not be an exact replica of its listed picture. All of our products are one-of-kind and assembled by us, meaning there will be product variation in terms of bead color, size, and details. You receive one pair, meaning two bok choys per purchase.
Color: White to Green gradient mimicking the real vegetable
Note: Due to sanitary reasons, all jewelry sales are final and cannot be returned. However, if a product does arrive damaged or unsuitable to your needs, we will work with you to provide an item of intended equal value and style. We are able to contacted through our Instagram profile @mercado.stand